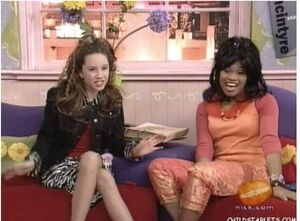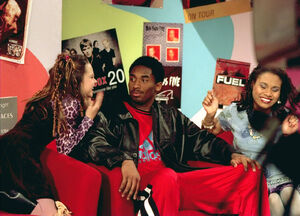 Whateverrr! is a sketch starring Amanda Bynes and Christy Knowings as Gina and Jessica. They played a pair of loud, ditzy valley girls who hosted their own television show. The duo commonly talked about very materialistic things such as broken fingernails, giving females makeovers, holding the first Mr. Whateverrr pageant, and their recurring obsession with Leonardo DiCaprio.
This sketch, like "Cooking With Randy And Mandy", aired on channel 106B. In addition, they had a set change and theme sketches, sometimes with famous people like NBA superstar Kobe Bryant. One of the sketches was on the 100th episode when Gina threw a surprise birthday party for Jessica which she bring out a birthday cake with the Backstreet Boys on it. Gina gave Jessica a present Robert Ri'chard (the star of Cousin Skeeter) after he was dragged off the streets from Gina and then wrap him up as a present who then escape after Jessica thanking Gina. However, Repairman appeared overhearing Jessica (who had just broke her fingernails) and started to wreck the whole "Whateverrrr" set which ended with him breaking the camera.
Community content is available under
CC-BY-SA
unless otherwise noted.