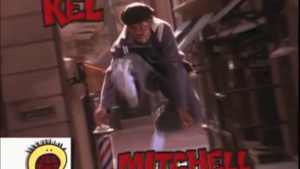 Kel Johari Rice Mitchell (August 25, 1978) is an American actor, comedian, dancer, musician, and writer born on August 25, 1978 in Chicago, Illinois. He is best known for his work as a regular cast member on All That, his portrayal of Kel Kimble on Kenan & Kel, his role in the Good Burger film, and his voice roles on Disney XD's Motorcity and the Nicktoons series Wild Grinders. Due to his birthday, his astrological sign would be Virgo.
Characters
Edit
Ed from Good Burger- A dimwitted teenager who served as the Good Burger cashier, but somehow always found ways to screw things up. His usual catchphrase, along with his customer greeting, is "Welcome to Good Burger, home of the Good Burger, can I take your order?". Another commonly used phrase is "Uh...no?", usually said when a customer pointed out a flaw in their order. When not with a customer, he would bang on the cash register singing, ""I'm a dude, he's a dude, she's a dude, 'cause we're all dudes. HEY!" For the final two seasons of the show, Mitchell was replaced by Ryan Coleman. One of the show's producers, (known for starting iCarly, Victorious, Zoey 101, Drake & Josh, etc.) Dan Schneider, played Ed's usually irritated boss. Some of his antics at work include accidentally breaking an aquarium filled with pet bugs and replacing an actor that he knocked unconscious during the filming for a Good Burger commercial. The sketch lasted from the first to fifth seasons, before being picked up for the ninth and tenth seasons, but Mitchell's role lasted the first five.
Coach Kreeton from Dullmont Jr. High School - A gym coach who constantly received inflictions of pain, such as when his hand was stuck in a waffle iron and he then fell out the classroom window. As shown in the All That 10th Anniversary Special, he quit his job at Dullmont claiming he couldn't deal with "those demon crazy communist children", even when Principal Pimpell beckons he come back. This is one of the show's more popular sketches, as well as Mitchell's personal favorite. His catchphrases are "Goood!", "Oh, the life I live is sad!", and "You upset me in ways I can't understand!". The sketch lasted from the first to fifth seasons.
Pizza Face from Earboy- Walter the Earboy's friend who namely has a slice of pepperoni pizza for a face. He is one of Earboy's 3 friends, alongside Tinsel Teeth and Four Eyes. When "Henry Ross Perot" threatened him by saying he preferred pizza, Pizza Face screamed and jumped out the window. Apparently when he cries his pepperonis can fall off. The sketch lasted from the first to third seasons before being picked up a final time in season five.
Yo Gurl/Butter Boy/Cow Boy from The Adventures of Superdude - Yo Gurl is a sassy female villain with pink hair inside a "yogurt cup" that threatened Superdude by throwing yogurt. She deems to be the "Queen of Icy Topping", but was frozen by Superdude's cold breath. Butter Boy is a butter-suited villain that is the "butter-in-law" of Milk Man, another one of Superdude's enemies. Superdude used heat vision to melt Butter Boy. Finally, Cow Boy was seen in a Western-themed Superdude sketch. He is an outlaw cowboy dressed as a cow that attacks by spraying milk from his udders. Superdude defeated him by tying up his udders, causing Cow Boy to explode and splatter the saloon setting with milk. Butter Boy was seen in the second season, Yo Gurl in the third, and Cow Boy in the fourth. The sketch through the first six seasons.
Singo from USS Spaceship - This Star Trek spoof took in Singo as a crewman that sang everything he said, hence his name. It is unknown if he purposely does this or if this is a permanent habit of his. The sketch lasted from seasons 3-4.
Repairman - Whenever a device, item, or equipment piece broke in a house, workplace, or public area, The Repairman appeared (usually falling from the sky) claiming that he could fix the broken product. Possibly a superhero, the Repairman wore thick glasses, a pair of overalls over a blue shirt with his logo on it, a beige bowtie, safety gloves, a toolbelt, and work boots.
Lump Maroon from The Maroons - Lump is the second son and third child of the Maroon family who says nothing but the word, "Jupiter". When a question is asked, he always yells out "Jupiter" and writes a circle on a test paper. After The Maroons sketches are cancelled in Season 3, Lump becomes the only character of the Maroons to appear in Seasons 4-5.
Clavis from Mavis and Clavis - Clavis is the best friend of Mavis. He and Mavis appear in independent of sketches and are unhelpful as out when appearing in sketches. Clavis, along with Mavis are also heard at the end of every episode from Season 1-5 on the Tollin-Robbins Productions vanity plate, using their signature catchphrase.
He and Kenan Thompson also starred in the series Kenan & Kel from 1996–2000, as well as a 1997 major motion picture, titled Good Burger, which grew out of one of his sketches from All That. The duo also appeared together in an episode of Sister, Sister with Tia Mowry and Tamera Mowry, a few episodes of The Steve Harvey Show, and they appeared in a special two-part episode of Cousin Skeeter. Mitchell's character in Kenan & Kel made him famous for his antics and persona. They were also featured in an episode of Sabrina the Teenage Witch.
Outside of his ventures with Kenan Thompson, Mitchell provided the voice of a mild-mannered and playful dog named T-Bone in the children's cartoon series Clifford the Big Red Dog, alongside John Ritter, from 2000 to 2003. Additionally, he also made an appearance in the 2004 Kanye West music video All Falls Down as a luggage collecting valet.
In March 2008 he filmed his writing and producing debut, Dance Fu in which he also starred as the lead role. Also in 2008, Mitchell appeared in two Detroit-based stage productions, Affairs and Laundromat, the latter written by Carlos Faison and also starred comedian Buddy Lewis, Leanne "Lelee" Lyons of R&B group SWV, celebrity impersonator/stage actor Matt Macis, and accomplished vocalist and performer Lauren "Lexxi" Alexis.
He auditioned for Saturday Night Live in 2003 but lost out to his Kenan & Kel co-star Kenan Thompson, who became the first cast member to be younger than the show itself at age 29.
Mitchell appeared at the 2011 Comikaze Expo with several of his All That cast members, and recited his orange soda catchphrase from Kenan & Kel.
Currently, Kel returned to Nickelodeon and is starring in a new sitcom Game Shakers, created by former All That producer, Dan Schneider. And appears inthe series revival, mostly reprising his role of Ed.
Kel is 5'11" (1.80 m).
He enjoys writing music and drawing.
Kel has been part of two groups: MAFT (Mind After Future Thought), as well as being part of the original Chicago-based MWAH! (Messages Which Are Hopeful) when he was 13.
Kel has rapped in a song alongside Youngstown in the song "Pedal to the Steel".
He is good friends with Kenan Thompson, as they were both regulars on All That and the two title characters of Kenan & Kel, they also share their names with their characters. The two reunited after not being seen together for 8 years in September 2015 with a "Good Burger" sketch shown on the Tonight Show with Jimmy Fallon.
Kel once auditioned for Saturday Night Live.
External links
Edit
Community content is available under
CC-BY-SA
unless otherwise noted.