| | |
| --- | --- |
| Guest | HRVY |
| Premiere | July 25, 2020 |
| Written By | James III, Tim Barnes, Steven Borzachillio, Kevin Kopelow, Liz Magee, Joey Manderino, Heith Seifert, Monica Sherer, Madeline Whitby |
| Director | Trevor Kircschner, Jonathan Judge |
| Prod. No. | 1128 |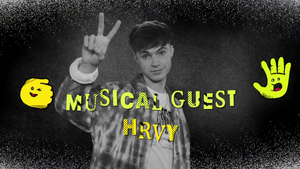 Tammy TMI runs for student body president; birthday expert Denzel teaches people how to throw a proper surprise party; "Stay Off Your Phone" returns with some special Strange guests; Reece explains why her joke is funny; HRVY performs.
| Picture | Description |
| --- | --- |
| | Stay off Your Phone: Will, Ian and Lorraine compete to see who can stay off their phones, despite a series of new apps, waiting for food at Kantsuya, and getting a surprise appearance from the cast of Stranger Things. |
| | Backstage: Reece tells a joke to Aria and Kate, but they don't find it funny. Kate proclaims that if a joke has to be explained then it's not funny, and Reece takes her up on her challenge. After several hours, and several dry erase boards, Reece has explained her joke, and the girls find it funny. Chinguun comes along and makes a fart noise into his palms, which Kate and Aria immediately lagh at upsetting Reece, so Chinguun explains the joke. |
| | It's Sabrina's birthday and her friends throw her a surprise party, but Denzel must first educate them on the art of surprise. |
| | Dullmont High hosts it's Student presidential debate between Luke Bailey and Tammy. |
| | Bed Bath and Beyoncé: A surfboard that hangs out with your keys, a wooden board that hangs out with your meats and cheeses, or a diva that pronounces "board" like "bort" |
| | Gabby finds a stranger's things, which summons the cast of Stranger Things, until Nate clears up the confusion and explains that Gabby said "stranger's things." As it turns out, the stuff belonged to HRVY, who is no stranger, but is tonight's musical guest. |
| | Musical Guest: HRVY performs "Me Because of You" |
| | Outtakes |
Performers
Edit
Musical Guest:
Impressions:
Characters:
Community content is available under
CC-BY-SA
unless otherwise noted.