| | |
| --- | --- |
| Guest | New Hope Club |
| Premiere | July 11, 2020 |
| Written By | James III, Tim Barnes, Steven Borzachillio, Kevin Kopelow, Liz Magee, Joey Manderino, Heith Seifert, Monica Sherer, Madeline Whitby |
| Director | Robbie Countryman, Trevor Kirschner, Lynda Tarryk |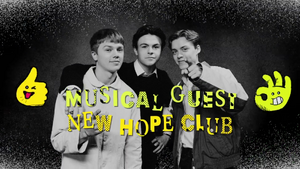 Synopsis
Edit
Jamie Lynn Spears returns to All That with the cast of Zoey 101; Alex hits 'em with a new Spanish lesson; auditions for a new school mascot are held; Penny chooses a character for her new game; Kate attempts the most difficult trick shot.
| Picture | Description |
| --- | --- |
| | Hit 'em with Spanish: Sarah has seen the show before, and attempts to prepare for her fate, but Alex is even more prepared. |
| | Backstage: Kate and Gabby do trick shots. Kate's shot bounces through different areas, and even travels back to the 90's version of the show. |
| | Penny attempts to dominate Trollquest 2 for her playthrough, but first must choose from a large assortment of useless cosmetics. |
| | The Midtown Middle School Cheer team pick between two possible new mascots, a Mustang, and the Mooselope. |
| | Backstage: With the cast of Zoey 101 set to appear, Thelma Stump has been hired as security. She lets Aria, Reece and Gabby in, after they prove they're on the poster, but refuses to let in Paul Butcher, Sean Flynn, Kristin Herrera, Christopher Massey, Erin Sanders, and Matthew Underwood, on account of them no longer matching their posters. Jamie manages to get her off their backs by making Thelma chase after some bacon she has sitting in her purse. |
| | Ryan takes a Shakespeare class to help him perfect how he introduces the musical guest. |
| | Musical Guest: New Hope Club performs "Let Me Down Slow" |
| | Outtakes |
Performers
Edit
Musical Guest:
Guest Starring:
Characters:
Alex, Sarah, Kevin, Earboy, Penny, Goxer, Mooselopes, Thelma Stump
This episode was filmed on November 21, 2019.
This marks Jamie Lynn's first appearance on All That since 2005.
All three eras of All That are represented in this episode, Josh Server and Kevin Kopelow representing the original series, Jamie Lynn Spears representing the relaunch era, and the current cast representing the current era.
Community content is available under
CC-BY-SA
unless otherwise noted.