| | |
| --- | --- |
| Guest | Echosmith |
| Premiere | April 18, 2020 |
| Written By | James III, Tim Barnes, Steven Borzachillo, Kevin Kopelow, Liz Magee, Joey Manderino, Heith Seifert, Monica Sherer, Madeline Whitby |
| Director | Johnathan Judge, Trevor Kirschner, Sandra Restreppo |
| Prod. No. | 1124 |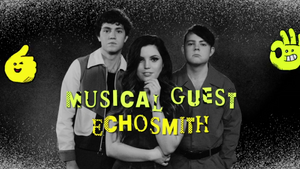 The cast of Danger Force guest stars to go camping with Ranger Rob, Klumsy Kevin has an accident at an ancient art museum, The Island Boys make new friends, and Cuddly Wuddly Creatures presents a bunny, Echosmith performs.
| Picture | Description |
| --- | --- |
| | Kevin knocks over a vase in an art museum and tries to cover it up by placing the broken vase pieces in his backpack, and placing the backpack back on the pedestal. Unfortunately the Tour Guide has evidence of Kevin's crimes. |
| | Backstage: Kevin tells the cast they have five minutes to the next sketch, but they have to attempt to leave Nathan's escape room of doom. Unfortunately for him, Aria saves them, however he is now the only one trapped in the room. |
| | The cast of Danger Force get safety tips from Park Ranger Peggy, and Park Ranger Rob. |
| | Island Boys: Eight months after being stranded by Kiki and Fran, Wyatt makes a new friend, a pig he names Harvey, who eats Walter's papaya. Walter in turn wants to eat Harvey, who in turn steals Walter's raft. |
| | Addison tries to get her friend to touch a Scandinavian Fuzz Bunny, but unfortunately she's deathly afraid of animals. |
| | Aria attempts to get Tammy to help her introduce the musical guest, but she just gives out too much information. |
| | Musical Guest: Echosmith performs "Diamonds" |
| | Outtakes |
Performers
Edit
Musical Guest:
Guest Starring:
Characters:
Alterations
Edit
The original official episode synopsis references a sketch featuring T@$#le!gh going to Coffee, Coffee, Coffee, but the sketch doesn't appear in the episode.
Community content is available under
CC-BY-SA
unless otherwise noted.