| | |
| --- | --- |
| Guest | Why Don't We |
| Premiere | March 21, 2020 |
| Written By | James III, Tim Barnes, Steven Borzachillo, Kevin Kopelow, Liz Magee, Joey Manderino, Heith Seifert, Monica Sherer, Madeline Whitby |
| Director | Jonathan Judge, Trevor Kirschner |
| Prod. No. | 1120 |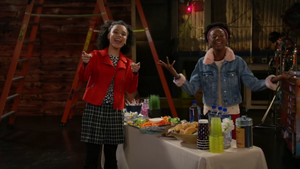 WWE superstars The New Day teach Coach Kreeton some wrestling moves; Beyoncé shows off some new products at her store; the cast helps Ryan get rid of his hiccups; the girls have a sleepover with new friend Barb; Why Don't We performs.
Picture
Description

Coach Kreeton teaches wrestling, and threatens to beat a student's uncles with his "skill abilities," unfortunately for him her uncles are WWE Superstars, Big E, Kofi Kingston, and Xavier Woods, also known as The New Day.

Backstage: Ryan has the hiccups, so Aria, Chinguun, and Lex attempt to cure him, nothing works until a Monster jumps out and scares him. At first he thinks it's Chinguun, but it's not.

Stay Off Your Phone: Chelsea, her Mom and James compete to see who can stay off their phones, despite trendng topics, listening to a boring person tell a story, a cat dressed like Ariana Grande, and Ariana Grande dressed like a cat.

Gwen invites her new friend, Barbara to her sleepover, but Paige and Maya have a sneaking suspicion that she's a mannequin.

Bed Bath and Beyoncé: A tiny house for your mail (filled with Bills, Bills, Bills), a baby hand on a stick or an icon with 23 Grammy's (so far)

Backstage: Aria informs Gabby that they have to announce the musical guest, so Gabby replies "Why Don't We!" Aria is confused, and suggest they should introduce them now, so Gabby replies "Why Don't We!" Aria wants to know if they're going to introduce the guest or not, so Gabby replies "Why Don't We!"

Aria doesn't understand why she keeps looking at the camera like she is, and wants to find out who the musical guest is so they can introduce them, Gabby explains to her that the musical guest is named "Why Don't We!"

Musical Guest: Why Don't We performs "Tell Me"
Performers
Edit
Musical Guest:
Guest Starring:
Big E, Kofi Kingston, Xavier Woods (The New Day)
Impressions:
Characters:
Community content is available under
CC-BY-SA
unless otherwise noted.