| | |
| --- | --- |
| Guest | Lauren Alaina |
| Premiere | February 29, 2020 |
| Written By | James III, Tim Barnes, Steven Borzachillo, Kevin Kopelow, Liz Magee, Joey Manderino, Heith Seifert, Monica Sherer, Madeline Whitby |
| Director | Jonathan Judge, Trevor Kirschner, Sandra Restreppo |
| Prod. No. | 1121 |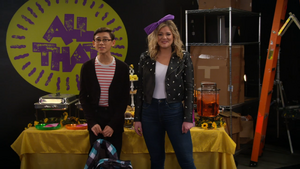 Alex teaches a new Spanish lesson; Lucy tries to control her emotions in a yoga class; Reece calls in a favor from a professional baseball player; a manager at a pizza place teaches his employees about birthdays.
| Picture | Description |
| --- | --- |
| | Denzel, the manager of Vermin Village Pizza, takes birthdays seriously, as the crew prepares for Tiana's birthday. |
| | Backstage: Chinguun is still attempting to break his piñata from his half birthday three weeks ago, to get the chicken nuggets inside. Reece calls in a favor from Major League Baseball player, Justin Turner, who hits the piñata to the Moon. Fortunately, he carries loose chicken nuggets in his bag. |
| | Hit 'em with Spanish: Alex returns to teach Spanish to Zack, such as "Ensalada" (Salad), "Aderezo" (Dressing), "Grandes Libros Pesados" (Big Heavy Books), "Ballena" (Whale), "Oh, no! Ahora Estoy Cubierto de un Million de Lombrices viscosas" ("Oh no! Now I am covered in a million slimy earthworms") and "Luchador de Sumo" (Sumo wrestler). |
| | Lucy Banner attends Miss Sage's Yoga class |
| | Vital Information with Reece Joy Caddell (New Opening Music) |
| | Bed Bath and Beyoncé: Circle that's also a fan, tiny fan that sprays water in your face, and a legend with 100,000 screaming fans |
| | Lucy is disappointment there is no caviar, and turns into a lamp. Nathan offers her some spare Tuna tartare, which makes her feel fancy, and she turns into country singer Lauren Alaina. |
| | Musical Guest: Lauren Alaina performs "Getting Good" |
| | Outtakes |
Performers
Edit
Musical Guest:
Guest Starring:
Impressions:
Characters:
Community content is available under
CC-BY-SA
unless otherwise noted.