Guest
Witney Carson
The Melisizwe Brothers
Premiere
January 25, 2020
Written By
James III, Tim Barnes, Steven Borzachillo, Kevin Kopelow, Liz Magee, Joey Manderino, Heith Seifert, Monica Sherer, Madeline Whitby
Director
Jonathan Judge, Trevor Kirschner
Prod. No.
1116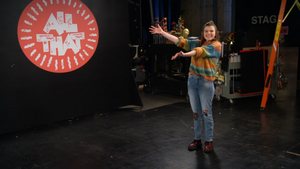 Witney Carson of Dancing With the Stars goes to Good Burger; T. Smith has an album preview; All That presents a new way to learn Spanish; Nathan cancels gum; The Melisizwe Brothers perform.
| Picture | Description |
| --- | --- |
| | Good Burger: Witney Carson visits "Good Burger" and dances with Ed in a dream sequence in a parody of her and Kel's stint on Dancing with the Stars, to a soundalike song of "I'll Make Love To You." |
| | Life Hacks with Billy and Millie: Billy uses a clip from a coat hanger to seal his chips, while Millie invents, which is a great way we can exspice. a device that allows them, for goofy guys, to communicate with Thomas Edison, who's impressed with Millie's invention, but not so much Billy's. |
| | Hit 'em with Spanish: Alex teaches Spanish on his channel to Chad, and as the title implies, he gets physically attacked at the same time. |
| | Trisha, a huge Taylor Swift fan tests out songs that have her friends freaking out because she is singing about them. |
| | Backstage: Reece is trapped in a claw machine, because she tried to win a panda and Kate and Ryan save her with a quarter Ryan was saving to buy gum. |
| | Cancelled with Nathan: Nathan cancels gum, because he stepped in some yesterday backstage, he doesn't know whose it was, however Ryan is on the set eating gum, and with nowhere to put it, he tosses it in Nathan's hot tub. |
| | The Melisizwe Brothers are performing tonight on All That, and practice by singing the theme song, but they are challenged by The All That Family Band, a band formed by the cast (except Kate). |
| | Musical Guest: The Melisizwe Brothers perform "Stadium". |
Performers
Edit
Musical Guest:
Guest Starring:
Impressions:
Characters:
Community content is available under
CC-BY-SA
unless otherwise noted.