| | |
| --- | --- |
| Guest | AJ Mitchell |
| Premiere | January 18, 2020 |
| Written By | James III, Tim Barnes, Steven Borzachillo, Kevin Kopelow, Liz Magee, Joey Manderino, Heith Seifert, Monica Sherer, Madeline Whitby |
| Director | Robbie Countryman, Sandra Restrepo |
| Prod. No. | 1114 |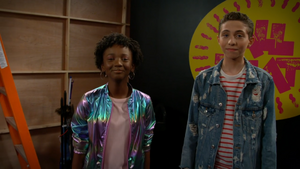 The All That cast 3D-prints a new cast member; Tammy shares way too much information; contestants in a game show try to stay off their phones; scientists re-creating a Tyrannosaurus rex get a big surprise; AJ Mitchell performs.
| Picture | Description |
| --- | --- |
| | Wrap battle between Rap Genius and Lil' R |
| | Green Room: Lex and Ryan test out a new 3D printer, and prints a new cast member, Gabrielle suggests printer a new cast member, and naming her Aria Brooks, a name she's always liked. |
| | Stay Off Your Phone: A game show where contestants, Amber, Sarah, and Jordan have to stay off of their phones. Amber forfeits immediately, while Sarah and Jordan tough it out to round two, wher eSarah can't resist the temptation to not take a slefie with Barack Obama near a double rainbow. Jordan however also loses when he gets on his phone to tell peope he won. |
| | Tammy, the new ticket girl at Dullmont Cinemas, can't stop oversharing information. |
| | Bed Bath and Beyoncé: A pillow for your behind, a bunch of mugs that know how to spell, and a lion queen. |
| | A would be Dinosaur Park owner, enlists the help of two scientists to revive a T-Rex... unfortunately for him the dinosaur is much more genial than typically thought as, as he loves singing and giving hugs. |
| | Aria can't hear the new AJ Mitchell song on her phone, so Ryan suggests she ask the real AJ Mitchell, which she does, and he can perform louder than her phone. |
| | Musical Guest: AJ Mitchell performs "Slow Dance" |
Performers
Edit
Musical Guest:
Impressions:
Characters:
Community content is available under
CC-BY-SA
unless otherwise noted.