| | |
| --- | --- |
| Guest | Tyga |
| Premiere | November 30, 2019 |
| Written By | Rebecca Drysdale, Hans Holsen, Kevin Kopelow, Liz Magee, Shamikah Martinez, Heath Seifert, Monica Sherer, John Trowbridge, Madeline Whitby |
| Director | Jonathan Judge, Sandra Restrepo, Eric Dean Seaton |
| Prod. No. | 1113 |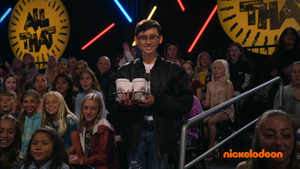 Bed, Bath & Beyonce returns with holiday home essentials; Tyga places an order at Coffee Coffee Coffee; the Loud Librarian returns to Dullmont Jr. High; Nathan cancels the emoji with one eye closed and his tongue out.
| Picture | Description |
| --- | --- |
| | Coffee, Coffee, Coffee, Coffee, Coffee, Coffee: Alisha makes coffees for Tyga and his entourage of humans while frustrating Johnathan who was sent to pick up the drinks. |
| | Bed Bath and Beyoncé: 20 million colorful lights on a string, a miniature house that is also desert, or her - the best gift you never had. |
| | Loud Librarian attempts to quiet down more unruly kids, who stress her out, so she watches ASMR to relax, causing her to fall asleep and sleepwalk. she wakes up and cooks Teppanyaki, and tries to sing some sense into the kids with her Barbershop Quartet, The Silencios. |
| | During the science fair, Robbie who claims to have time traveled while making a lemon battery, leaving his fellow students (Kate and Chinguun) and his teacher (Josh) skeptical. |
| | Cancelled with Nathan: Emoji that looks like this: 😜 |
| | Bed Bath & Beyoncé: A festive bowl with holes in it, a sledgehammer for holiday meats, or a child of destiny. |
| | So You Can Think You Can Dance While Performing Surgery: Cat Litter and her judges Nigel Cornberry, Murphy Mary, MD, and Glitch have the final say on a Dr. Amber Splits McGee performance and surgery on a patient, Greg. |
| | Storytime with Ariana Grande: Ari-punzel |
| | Johnathan introduces the musical guest. |
| | Musical Guest: Tyga performs "Made Me" |
Performers
Edit
Musical Guest:
Impressions:
Characters:
Community content is available under
CC-BY-SA
unless otherwise noted.