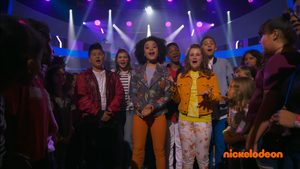 Picture
Description

Coach Kreeton is a Session Musician for Beyoncé's new commercial for her favorite line of String Cheese. As expected things don't go well for him, as he gets a face full of Contrabass spit, and a Trombone to the face.

Cancelled with Nathan: Bounce houses.

A genie who lives in a toilet grants two people (Reece and Nathan) wishes but purposefully screws them up, since he's upset over living in a toilet.

Star Wars parody, Brey brings an umbrella to a Lightsaber fight. Fortunately for her, Rylo Ken brought his little sister's toy fairy wand.

Storytime with Ariana Grande: Hansel and Arietel.

When a couple's Mystery Meat Pie is "stolen, Detective Dan, Detective Anne, along with Detective Stan (their pet dog) are on the case of the kidnapped ballerina. Meanwhile the Waitress places the couple

s food in a to-go bag.

Musical Guest: Ty Dolla $ign performs "Purple Emoji"
Performers
Edit
Musical Guest:
Guest Star:
Impressions:
Characters:
In the Coach Kreeton sketch Beyoncé references Destiny's Child, which was the group the real Beyoncé was apart of who performed in a season four episode.
Community content is available under
CC-BY-SA
unless otherwise noted.