| | |
| --- | --- |
| Guest | Boomkat |
| Premiere | February 14, 2004 |
| Written By | Dan Schneider, Andrew Hill Newman, Ken Pisani, Matt Oswalt, Anthony Del Broccolo |
| Director | Virgil L. Fabian, Steve Hoefer, Rich Correl |
| Prod. No. | 910 |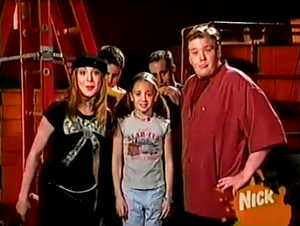 Picture
Description




Green Room: Jack, Lisa, Chelsea, and Giovonnie eat peanut butter that a fan sent in, unfortunately their mouths get stuck, and they can only mumble at each other. Jack leads them to the refrigerator, and they drink some juice inside it. Now their mouths are cleared, but they can't stop screaming. Because they drank Jamie's "screaming juice," which took her three weeks to make. She storms out angrily, and Shane enters and gets screamed at for having an untied shoe.




American Idiot: Lizzy Gillespie eats her harmonica causing her speak in harmonica noises, Slimon Bowel doesn't like her act, which enrages her, and she angrily storms off stage. After which, a protester (played by Jack), who speaks in a manner similar to Professor Frink from The Simpsons, comes on stage with a candle to protest the treatment of "idiots. Then, Randy Quench shows up to extinguish the flame.

Finally, Wally Melona shoots his own head off with a cannon.

The Rougenecks: Politics

Bump: Lisa spins in a circle, Jamie and Chelsea spin while holding each other's leg, Jack and Shane shane mugs at the camera, and Jack and Lisa play fight.

2-Gether 4-Ever: Melanie has a crush on a cute boy who flirts with her and walked her home with an annoying girlfriend named Heather, who happens to be the captain of the football, basketball and soccer team, and senior class president.

Bump: Jack and Lisa slap fight

Know Your Stars: Chelsea Brummet loves to go hiking in the middle of the night, she has no tongue, is in love with her own tongue, uses her tongue to tell lies, and has a big booger.

Bump: Christina blows a kiss at the camera

Musical Guest: Boomkat - "What U Do 2 Me"
Performers
Edit
Musical Guest:
Characters:
Community content is available under
CC-BY-SA
unless otherwise noted.