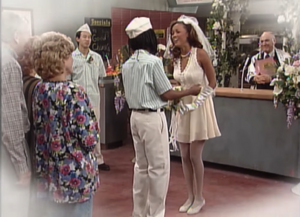 Green Room: Kevin tries to pull a prank on the cast. As one might expect, it backfires.
Good Burger: Fantasy Ed and dreams about his marriage to Tyra Banks.
Ask Ashley: The adorable Ashley reads letters and gives advice to their writers. Unfortunately, everyone asking for advice is completely stupid. One girl doesn't even know how to turn over a peanut butter and jelly sandwich! Ashley goes on violent rants against everyone that sends her a letter.
Class Cowboy: Howdy! A new student from the Wild, Wild West (Josh) joins Ms. Fingerly's class.
Peter and Flem: Peter treats his wounds with fresh bandages while Flem uses his as chip dip. Also, Peter finds something special: a shiny penny. Flem also finds something special: a hobo!
Pierre Escargot Introduces Musical Guest: Blackstreet – "No Diggity"
Community content is available under
CC-BY-SA
unless otherwise noted.