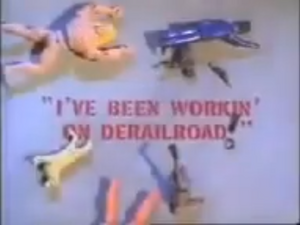 Green Room: Kevin directs the cast to the wrong dressing rooms to change for the football sketch. Now the boys are all dressed as cheerleaders and the girls are dressed up in football uniforms.
Kay (Angelique Bates) gets more than she bargained for when her blind date turns out to be Ishboo.
Lori Beth is taking driver's ed and her instructor is none other than Coach Kreeton. It's Coach vs. Student as Lori Beth upsets and wounds Kreeton in ways he can't understand.
Action League Now!: "I've Been Working On DeRailRoad" - The Action League team investigates a rash of railroad wrecks.
Miss Fingerly's eraser has gone missing. As she turns her back to search for it, her students proceed to steal everything in the classroom, only to stop whenever she turns back around. She finally catches on when the students steal her wig.
Kreeton shouts out his window at some noisy nearby birds, until one dives through the window and pecks his face.
Ishboo sneaks his way past a security guard in order to sit in the audience for Blackstreet.
Ishboo introduces musical guest: Blackstreet - "Love's In Need".
Community content is available under
CC-BY-SA
unless otherwise noted.