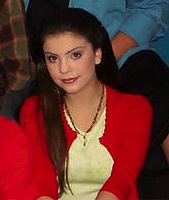 Chelsea Brummet (born Chelsea Jean Brummet on January 28, 1987 in Elgin, Illinois) is a former American actress who was a cast member of "All That" from 2002 to 2005.
Her other television credits include guest-starring on Nickelodeon's "Drake & Josh", "Gilmore Girls", "What I Like About You" and "The War At Home."
These days, Chelsea is retired from acting. She studied fashion at Ohio State University and is an artist for SAG-AFTRA.
List of portrayed characters
Edit
Used to reside in Denver, Colorado and Phoenix, Arizona
Has two older brothers and a younger brother
Has a dog named Sierra, three cats (Ally, Maruchka, and Angel) and a bunny named Patchenkov
Her favorite movies are Meet the Parents, Count of Monte Cristo, Lord of the Rings and all Adam Sandler movies.
Two of her characters on the show, Abby Rhodes and Bridgette, have the catchphrase "Okay", but they say it very differently.