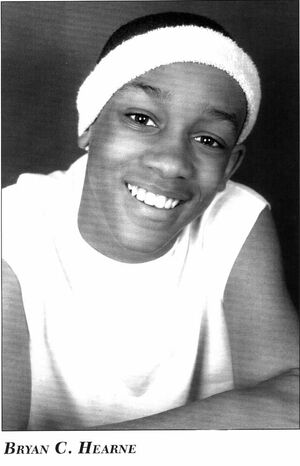 Bryan Hearne (born Bryan Christopher Hearne on September 23, 1988 in Staten Island, New York) is an American actor who was a cast member of All That from 2002 to 2003. He first began acting at the age of three.
Bryan auditioned once for the show after sending a tape from New York to California where he was later added to the cast of the re-launch series. He left the series after the 8th season to pursue a music career and was replaced by Christina Kirkman.
Bryan's other credits include appearing in films such as Hardball and Pootie Tang. He has also guest-starred on TV shows such as Third Watch, Providence, Whoopi and Everybody Hates Chris.
As of 2012, Bryan is now a rapper who goes under the name "Comodity" and is part of a rap group called the Crown Holders.
Characters
Edit
His acting influences include Eddie Murphy, Denzel Washington, Will Smith, Don Cheadle & Wayne Brady
Originally went under the name "Holl E Wood" when he first began recording songs
Is good friends with former actor Jeffrey Wood
He Is a day older than Kyle Sullivan
Community content is available under
CC-BY-SA
unless otherwise noted.