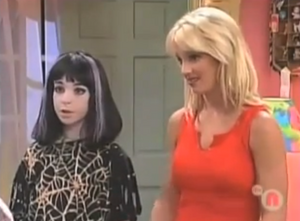 Britney Jean Spears is
Britney Spears is
Season 7 episode 4
next: Tony Hawk/Barenaked Ladies
Lisa introduces the cast to the new technology of the video phone. They make several calls, eventually landing on Britney Spears, who agrees the be a guest on the show.
Vocabulary with Lisa: Truck and Garbage
Bridgette's Slumber Party: The girls fight over the correct lyric to the Britney Spears song "Oops I Did It Again." Bridgette thinks it's "Oops, I Kissed Him Again.", Gale thinks it's "Oops You're My Best Friend", and Claudia insists it's "Oops I Just Ate Your Brain." To settle the argument Claudia uses her powers to summon Britney Spears, who surprisingly tells them Claudia was right about the lyric. Elliot comes in and tries to get Bridgette in trouble for having Britney Spears in her room.
Rate the Pain: A Porcupine.
Bloopers: Kyle is so excited about having Britney Spears on set while shooting "Bridgette's Slumber Party", he knocks over Giovonnie, Lisa and Chelsea before jumping out the window.
Community content is available under
CC-BY-SA
unless otherwise noted.